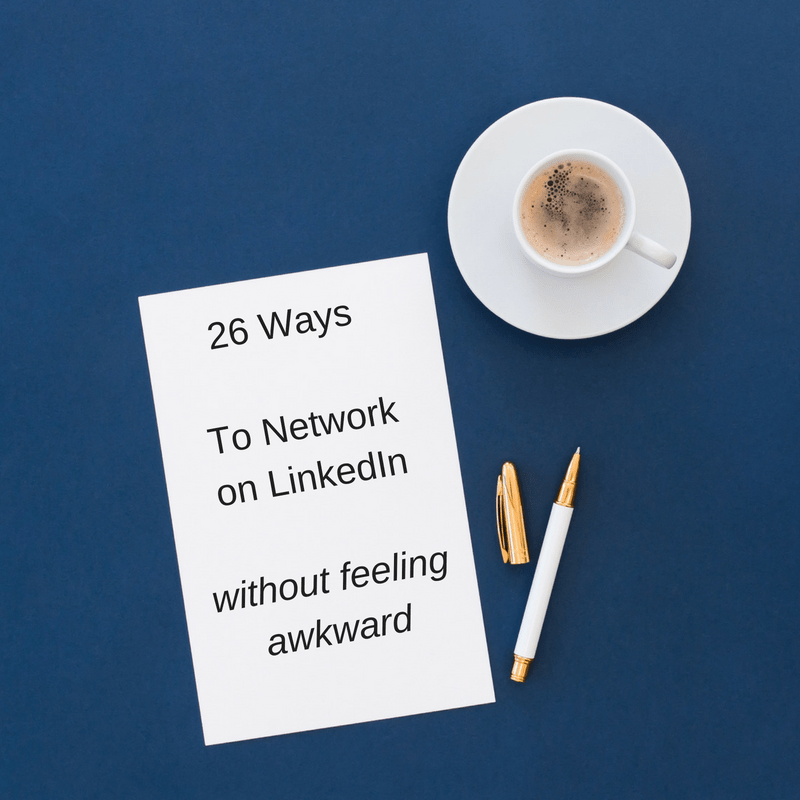 How much do you use LinkedIn to grow your business or professional presence?
If the answer's "not much" you're not alone. Many people stay away from using LinkedIn in a meaningful way because they're not quite sure what to do. For instance, how should you connect with new people? And once you've connected, what should you do next? What should you "do" in the LinkedIn space? You know holiday pictures and videos of cute cats are out of the question, but a proud and loud status update about how successful you are feels a bit… urgh. Fortunately, it's easier than you might have thought.
Once you get into the swing of things on LinkedIn, you'll find yourself growing in confidence. And as your confidence grows, so will your presence. Here are an incredible 26 ways for you to get started on LinkedIn and connect and engage without feeling awkward:
Little and often. Give yourself 15 minutes per day on LinkedIn. It's more than enough to build up your connections and successfully engage with your network. Everyone can find 15 minutes – perhaps on your commute, or with a cuppa once the kids have finally gone to bed. Set a timer if you're likely to get carried away, and before you know it you'll have established a regular and reliable presence.
Remember your existing clients, they are an excellent first step in LinkedIn networking. Try some of these:

Connect with them. A pre-existing relationship makes this one of the easiest connections you can make. They may even be expecting you to connect. Go on, press the "connect" button!
Follow their company pages. This helps you stay abreast of developments and news they post. In turn you'll be updated on their business and look like an amazingly on-top-of-things supplier.
Engage with their posts. Show your client you care; like, comment and share their posts. They'll appreciate it, as it helps improve their visibility in the LinkedIn feed. And as a bonus, other users will see you've interacted, which increases your visibility.
Pay attention to their content and look for future opportunities. Perhaps there's something you, or someone you know, could help with.
Build concrete relationships by staying in touch. Tag your connections into posts that are relevant to them (using @their name), introduce them to people who may be able to help them, and even endorse or recommend them. As a bonus, they may endorse or recommend you back.
See who your clients are connected to. Many of your client's connections could be ideal prospects. You'll sometimes get an alert when a contact has commented or liked someone else's post. Use that opportunity to engage with the post and follow it up with a connection request.
To move your network forward, you'll need to expand your client base.  It's important to take an active approach.  Don't be passive and let the people who contact you shape your network; you want connections and a LinkedIn feed that's helpful and relevant to you.  LinkedIn is about mutually beneficial connections – something to remember if you get a connection request you're unsure about.  Here are some opportunities to expand your LinkedIn network:
Join relevant groups and seek out potential new connections. Who leaves interesting posts or comments? Get in touch and connect with them!
Use the search bar to look for prospects who match your requirements. Perhaps you want to focus on a particular town or city, maybe you want to increase the number of small business owners in your network. Actively seek out the sort of people you'd like to see in your feed.
Look through the 'people you may know' section to see if there's anyone you know, or who has mutual connections
Use the 'who's viewed your profile' to see if there are any interesting potential connections to get in touch with. As they've already viewed your profile they're an easy connection opportunity.
Leverage your other channels. Use your website, email signature and business cards to invite people to connect with you. They've already seen what you do, it's an easy win for you.
As well as expanding your network, you also need to engage with your network. Lots of people avoid engaging on LinkedIn because it makes them feel awkward. Here are some triggers for the chance to engage and build relationships with your LinkedIn connections and potential prospects.
You've found a prospect you want to connect with. Look through their feed and comment on or share one or two of their posts. You should also include a note on your connection request. This gives you a chance to introduce yourself and kick off the relationship on the right foot.
Someone has viewed your profile. Why not drop them a note along the lines of "Hi xx, I couldn't help but notice that you took a look at my profile. Is there anything I can help you with?" If you're not already connected use the opportunity to connect with them.
Your invitation to connect has been accepted. Take the chance to say "thank you" and follow up with a personal message.
A connection has a job change / promotion / profile update / work anniversary. These are wonderful for a virtual pat on the back. A personal note goes a long way and is always appreciated.
A connection has mentioned you in one of their posts. You can like, comment or share their post (or even all three), why not go the extra mile and also send that person a personal message relevant to their post?
A connection has liked, commented or shared your LinkedIn status update. Sadly, engagement can go unnoticed. So imagine how much you'll be appreciated if you respond to a comment or send a message to someone who's engaged with your post. It helps you stay in touch with your existing network and build valuable new connections.
A connection has liked, commented or shared your LinkedIn Publisher post. If someone's taken the time to read and engage with a post you've published, sending them a message is a thoughtful touch that could lead to new opportunities. You can further your engagement by reading, sharing and commenting on their articles.
Someone has endorsed or recommended you. Thank your connection with a personal note to keep the lines of communication flowing. Why not return the favour with an endorsement or recommendation of your own? If the recommendation they've given you is especially eloquent or impactful, you could share it in your feed, tagging in that person. It will look even better if you create an image from the recommendation using Canva; you'll raise your profile and that of the connection who gave you the recommendation in the first place.
Your connection was mentioned in the news. You can share the post in your feed, tagging in your connection, or you could like and comment on the post. And of course, sending them a message relevant to the news will show them you're engaged and interested in them.
Your connection has posted a status update. A simple comment is enough to keep communication flowing. If it's something you think someone else will find interesting, then tag that person in your comment, ready for them to read the update as well.
Your connection has published an article on LinkedIn Pulse. Comment on the article with something you found interesting or that you've learnt. Your connection and the other people reading the post will appreciate your learnings.
I hope this list of ideas goes to show there are plenty of ways you can engage on LinkedIn without posting grand or witty status updates or publishing ground-breaking reports. Remember LinkedIn thrives on the conversations and communities that exist in its space and it's waiting for you to join in.  The more that you engage on the platform, the more the algorithm will adapt to suit you and your business needs.
What are your favourite ways of engaging and connecting on LinkedIn? What works best for you?
Bio:
Hi, my name is Jennifer Corcoran.  I'm known as the Super Connector and I help coaches, consultants and trainers to super boost their LinkedIn profiles and and attract clients using my 4-stage PACT Framework.
Without my help they will continue to be stuck, confused, daunted or overwhelmed by LinkedIn. Through me, they can create a LinkedIn profile which truly represents them and a holistic approach to networking on LinkedIn.
They will be left feeling reinvigorated, confident and raring to go and excited to tap into all the opportunities this amazing platform offers them.