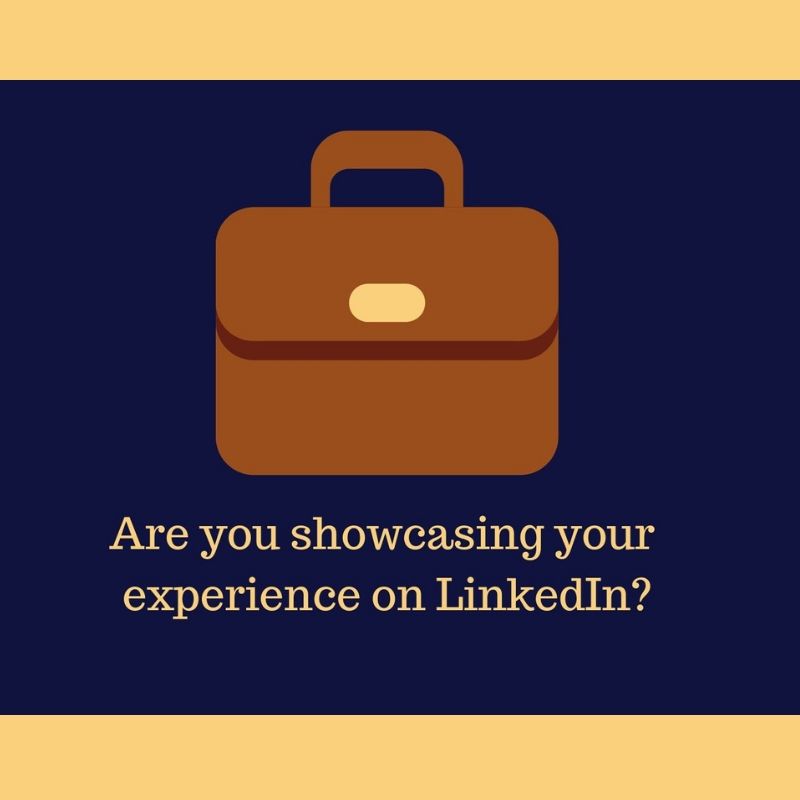 The experience section is a really important part of your LinkedIn profile and gives you the chance to showcase just what you're made of.  For each company you've worked at (and that of course includes where you are now), you have 2,000 characters to play with – use them wisely.
I use these four guidelines to help:
Include numbers, results and notable achievements.
The title in your experience section should give your audience the title of your specific role. Don't get too creative in this section and don't forget those relevant keywords.
Be as creative as you like when you describe each role in the description section.
And finally, the description section is also search engine optimised by Google so again, those keywords literally are key!
If you get really stuck, you can follow this simple formula:
Write a brief company description.
Write a brief summary of your role.
List your top 3 responsibilities using bullet points.
And finally list your top 3 achievements using bullet points.
The logo and information relating to your current employer or business will appear on the top right-hand side of your profile and helps to build on the know, trust and like factor.  In addition to the summary and education sections you can also add media to individual positions you've held within Experience. These can include images, pdf documents, presentations, links or video which will help to educate your audience and engage profile views.
Personally, I would focus the most attention on your current role, after all, it's where you are now.  Always write in the correct tense – present for now and past for previous employment history.  If you're a business owner, please don't forget to put a clear call to action at the end – this could be either a business phone number or email address.
Your LinkedIn Profile is a living document which will require the odd tweak as your career progresses.  My takeaway tip is to check that all of your employment links are working and that any links you post are relevant – these can change so check on your profile regularly.
ABOUT ME:
I'm a LinkedIn Consultant / Trainer and the founder of My Super Connector.
For me 'connection' is why we are here. It is what gives purpose and meaning to our lives. We are all connected and in order for authentic and engaging connection to happen, we need to allow ourselves to be seen.
In a nutshell, I help entrepreneurs and professionals to polish up their LinkedIn profiles and connect with finesse in order to achieve career and business success.  I believe that you don't need to be the loudest in the room to make an impact, you simply need to be effective which is where I come in to help you polish up your existing online profile and help you to shine online.
If you want to fully optimise your LinkedIn profile check out my course LinkedIn Profile Success or get in touch for a 1-2-1 or LinkedIn Workshop.