When it comes to the accomplishment section of your LinkedIn profile, please take maximum advantage of all 9 categories that you can add content to, as this section can really give you the X-Factor and make you stand out from the crowd.  I like to think of it as the 'toot your horn' section.
The 9 categories are: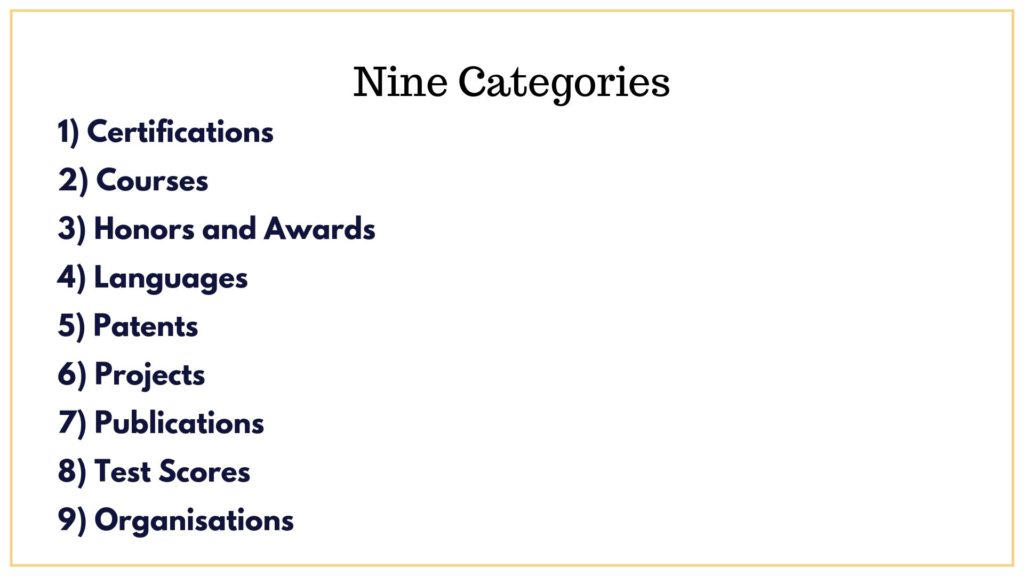 Yes, that's definitely 9!  Here is a short breakdown of them all and how you can be making a lot more of this section going forward.
Certifications:  Certifications add credibility to your profile. You don't have to list every one that you've achieved, only the relevant ones. Select your certification authority as this will allow people to search for you using this category, and if you have a license number, here's the place to list it.
Courses:  In this section you can enter both the course name and number as well as relevant experience. Again, you don't need to list every course you've completed, just the relevant ones that align with your LinkedIn objectives.
Honours and Awards:  This doesn't have to be an individual honour or award. If you worked as part of a team or company that made a notable impact or won an award then list it here. You can associate your honour or award with a specific role / company from your experience section and also list the issuer. This section can really make you pop so you might want to consider including a brief description of the organisation that issued the honour or award, a quick summary of why you were awarded it, and then add in 3 skills you obtained or activities you took part in to get it.
Languages:  Choose from a populated list and identify your proficiency. You might work in several languages so remember to list all the relevant ones.
Patents:  If this section applies to you, it'll allow you to tag in a co-inventor and will also highlight whether a patent is pending or issued. It also includes a description section.
Projects:  This is an ideal place to show off some of your actual work, similar to a portfolio. One of the great ways to demonstrate to a potential client what you can do for them, is by showing them what you've done for others. Individual projects are listed much like your past job experience, but sadly without the option to add Media. But if you can provide an outstanding description of what you did with relevant keywords, or perhaps the name and brands themselves will lend some weight, then definitely take full advantage of this section. You're also able to tag others who worked on projects with you which will boost your profile in terms of search engine optimisation.
Publications:  Personally, I wouldn't recommend listing every single one of your guest articles here, but that said, if this is the section of your profile that'll make you shine and you've been published in a dozen incredible places, or have an extensive library of books, blogs, white papers and guest blogs that you've written, then list them all! If not, just add a nice sample to show a prospect that you've been published elsewhere beyond your own website and use the description section to add in any relevant keywords.
Test Scores:  If you passed an industry standard exam or test relevant to an industry standard, then this section is a great place to highlight your achievement. You can also add keywords and associate it with your experience.
Organisations:  This is another section where you can add a description. You can also associate the position you held when you were a member of that organisation. If you belong to an industry specific networking group then this is the place to list it. People buy people who belong to the same 'tribe' as them and this may well be a talking point.
Time to get tooting those horns folks…..
Bio:
Hi, my name is Jennifer Corcoran.  I'm known as the Super Connector and I help coaches, consultants and trainers to super boost their LinkedIn profiles and and attract clients using my 4-stage PACT Framework.
Without my help they will continue to be stuck, confused, daunted or overwhelmed by LinkedIn. Through me, they can create a LinkedIn profile which truly represents them and a holistic approach to networking on LinkedIn.
They will be left feeling reinvigorated, confident and raring to go and excited to tap into all the opportunities this amazing platform offers them.