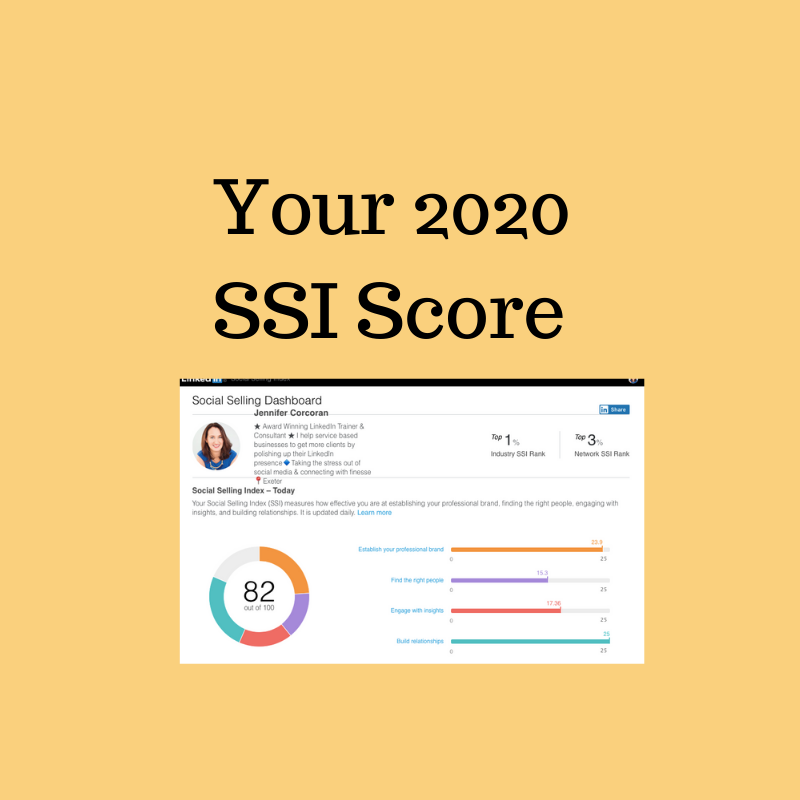 2020 is fast approaching.
A new year.  A new decade.
Will you be improving your LinkedIn game?
LinkedIn has been around for many years now however the number of people creating content in comparison to LinkedIn lurkers means the potential to be seen by your target audience and potential clients is HUGE.
I meet so many clients who have no idea how to measure their LinkedIn success.
I know that there is still a bit of confusion about your LinkedIn SSI score so I reached out to LinkedIn Advertising Expert Louisa Reynolds and together we have created this article to give you the low down and get you comfortable with the analytics in the back end of your LinkedIn profile.           
WHAT EXACTLY IS YOUR LINKEDIN SSI SCORE?
Your Social Selling Index Score (SSI) is scored from 0-100 and it measures how effective you are in 4 key areas (each with a respective score of 25)
•       establishing your professional brand 
•       finding the right people 
•       engaging with insights 
•       building relationships
(Here is a snapshot of mine today)
Your SSI score is a great reminder to use all of the tools the platform has to offer.
It is updated daily and ranks according to both your industry and network.
Click on this link to discover yours: https://www.linkedin.com/sales/ssi
NB: In our experience true success on LinkedIn is a mix of both inbound and outbound strategy and doing both effectively will increase your SSI.
WHAT IS A GOOD SCORE?
In general, a score of 60+ means that you're pretty good on LinkedIn.
You have optimised your profile and are being consistent and social with your network.
If your score is lower – ask yourself the following questions:
·       Have you optimised each section of your profile fully?
·       How active are you on LinkedIn?
·       Are you logging in daily?
·       Are you giving back to your network in the form of comments?
·       Are you posting your own original or curated content?
·       Are you relying solely on inbound leads?
THE 4 KEY PILLARS EXPLAINED:
1.     Establish your professional brand
This looks at your profile, is it 100% completed?
If not go back and make sure you have added….
Ø  Profile picture
Ø  Background image (known as a Cover Photo or Cover Banner)
Ø  Headline
Ø  About section (Include examples of your work in the about section under media)
Ø  Contact details
Ø  Work experience
Ø  Skills
Ø  Recommendations
This should be a one-off exercise and once complete leave you time to concentrate on the below three points.
2.     Finding the right people 
Are you building your network consistently in the right way?
Ø  Sending invitations
Ø  Accepting invitations
LinkedIn is not a one-way street.
Are you using the Advanced search to find relevant people, adding people at networking/events?
I recently created a video post on LinkedIn about following up after an exhibition / conference which may be of interest. Click here to access it.
The key here is little and often.
You don't have to send hundreds of invitations, just a few on a regular basis.
3.     Engage with insights
Don't just scroll through your feed, start to engage. Not only does it help with your score but the algorithm will start to understand what you like and serve you more of the same content.
Ø  Like and comment on posts
Ø  Add more than just 'Great post' Add why you think it's great, pick out key takeaways
Ø  Share interesting articles and add why you think your network will find it of interest
4.     Building Relationships 
The tricky one!  Don't just build a network that has no relevance. 10,000 connections that you never engage with, or have nothing to do with your industry will harm this score.
Ø  Connect with people that are relevant to you, peers in your industry, decision makers that are potential clients
Ø  Don't accept random invitations. Check to see if you share connections and if you think this person will enhance your feed
Ø  Engage with notifications that tell you about your network
It's quality not quantity!
SUMMARY:
HOW OFTEN DO I NEED TO BE ON LINKEDIN TO GET MY SSI SCORE UP?
If you can try to spend 10 minutes a day, on your commute or first thing in the office, you will see your score jump up pretty quickly.
Be social. Be consistent. Follow the 80/20 rule and GIVE back to your network.
YES! It's all about the GIVING and this is not restricted to this festive time of year.
Give back to your network regularly (all year around) and in turn the law of reciprocity will kick in and they will engage with you. And your score will rise. BINGO.
Huge thanks again to Luisa Reynolds for her insights. If you need help with LinkedIn Advertising get in touch with her. You won't regret it!
MY BLACK FRIDAY OFFER:
If you want to finally step out of the shadows on LinkedIn in 2020, stop lurking and improve your LinkedIn profile then my Black Friday offer will be perfect for you.
I'm offering 50% off my online program 'LinkedIn Profile Success' for a limited time only.
https://my-super-connector.teachable.com/p/linkedin-profile-success/?coupon_code=BLACKFRIDAYHALFOFF
If you want to get any kind of traction on LinkedIn you need to lay a solid foundation.
This foundation is your LinkedIn Profile.
ABOUT ME:
I'm a LinkedIn Consultant / Trainer and the founder of My Super Connector.
In a nutshell, I help service based business owners to polish up their LinkedIn profiles & pages and connect with finesse in order to achieve business success.
I believe that you don't need to be the loudest in the room to make an impact, you simply need to be effective which is where I come in to help you polish up your existing digital footprint and help you to shine online.
For me 'connection' is why we are here. It is what gives purpose and meaning to our lives. We are all connected and in order for authentic and engaging connection to happen, we need to allow ourselves to be seen.
If you need my help in finding your voice on LinkedIn please get in touch.