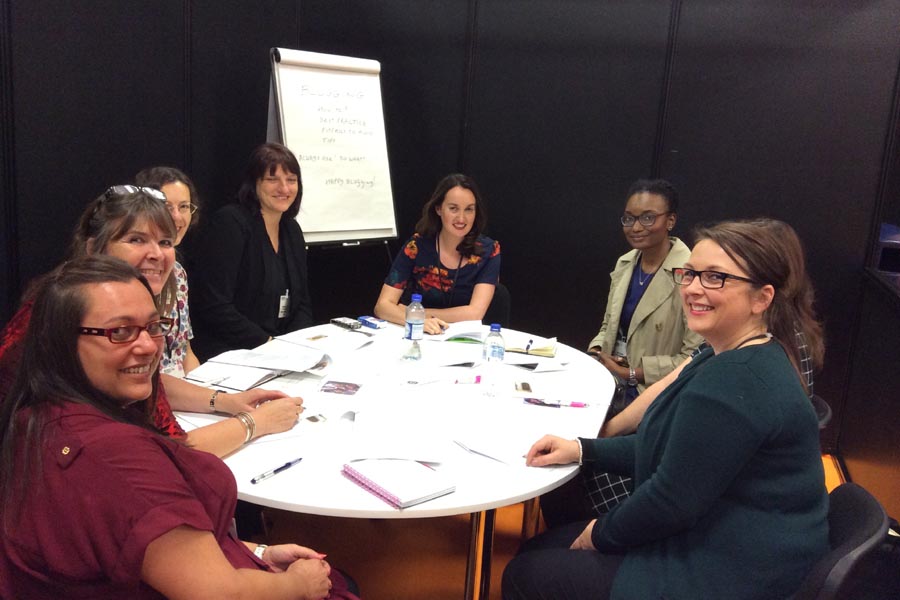 I was invited to host a hot topic session on National PA Day at office* 2015.  For those of you that missed it you may find the below notes of use.  This is my blog about blogging!
Blogs are like a diary on the internet.  The first weblog was created by John Barger in 1997.  You should always ask yourself two words when writing a blog…..So what?
Will the post inform / entertain?
Will visitors want to return?
Does it reflect your personal brand or your business brand?
Like a diary, a blog can be a very personal thing – I would advise that you adopt your own authentic voice and style for maximum engagement.  A typical blog length is 200-500 words.  Medium length blogs (600 to 1500 words) are usually better for social shares and SEO (Search Engine Optimisation) whereas shorter are usually better for getting more comments.
Don't let the quantity of words dictate the quality of your post and always keep your audience in mind.  I believe that you should write the length you want whether it is 200 or 2000 words and most importantly – enjoy!
86% of influencers blog – So why blog?
Personal satisfaction i.e. a vanity blog – a journey?
For Business i.e. to sell your product or service.
Share interests with like-minded peers.
Add value by sharing best practice and tips – 'How to' blogs are very popular.
To reach a specific audience:
Personal = friends, family and like-minded peers.
Business = Customers, Influencers, Competitors, Associates, Brand Ambassadors, Suppliers, Contacts and Regulators.
So where to begin and how to set up a blog?
There are basically two options which are a free tool like WordPress, Tumblr or Blogger versus self-hosting a blog on your own website.
Setting up free tools is relatively easy but the terms and conditions of these platforms stipulate that they own the Intellectual Property Rights of any content posted i.e. you have no control if they want to take down your site so something to consider.
The main reason for hosting a blog on your own site is to increase SEO and you have full control so it's a question of whether you view the blog as a hobby or a business.  If you are more serious it makes sense to buy your own domain name.
Things to consider when deciding on the best blogging platform for you:
Cost – there is usually a yearly hosting fee for any domain and of course you could pay a website designer on top.  There is however more SEO benefit when a blog is integrated into a website as your visitors do not need to go to two separate places.
Hobby vs Business – your own domain name will look more credible and search engines will index the domain name and increase SEO on every website refresh.
Desktop versus mobile device – You may want to choose a mobile version of a blog to allow access from a range of devices.
Functionality, customisation & layout – these can all be limited on free platforms.
Support or DIY.
Do you want to advertise on your blog?  Some advertising options are banners, CPM advertising, affiliate sales or pay per click.  Advertising is not permitted on free platforms.
Owner rights & control – as I already mentioned intellectual property rights of content posted on free platforms are owned by WordPress etc.
Best practice when blogging:
First things first – register the blog via Google, Yahoo and Bing. You can also use http://www.globeofblogs.com and http://www.technorati.com.
Bookmark your post on sites such as Triberr, Scoopit or Stumbleupon so that it can be found by others.
Schedule to publish your blogs when your audience are awake i.e. choose the optimum timing for your audience.
Optimise your content by including keyword phrases in both the title and content.
Ensure that you use alternative text (ALT text) i.e. key words for images in order for SEO.  This is basically a description of the image and its placement in the blog.
Use copyright free images in your posts.  Imagery has its own digital footprint and can be tracked if modified or downloaded without permission. You could face legal charges so worth noting!
Encourage and respond to comments – include a 'call to action' at the end.
Include links to your blog in your social media profiles as well as email signature and newsletter if relevant.
List social media sharing buttons at the end  of your blog.
Bring value – always ask yourself 'so what?' when writing and reading the blog.
Mention others if applicable as this will increase your audience reach.
Common pitfalls to avoid:
Do not use Clip Art in blogs as the pixels are not clear or professional looking.
Remember that Freeware imagery is free to download, use and share but should not be used for commercial purposes without prior consent from the creator.  You must provide a URL link back to the original item.  Freeware is best used for personal, educational or charitable purposes.
Don't self-promote too much as people will switch off.
Ensure that you space out the blog and that it is easy to read.  Use plenty of white space, bullets, headings and subheadings versus one long stream of condensed and heavy text.
Use clear language and acronyms that the audience will understand.
Use spell check before you post and print out the blog first to proof-read and double check – you can often miss something on the screen.
You may get spam comments on your site – this is basically somebody who wants to include a link to their website from your blog to improve URL popularity for SEO.  Ensure that you check comments regularly and delete ones like these off immediately.
My Take Away Tips:
I recently came across #bloghour on Twitter – this is a tweet chat once a week which is hosted by the UK Blog Awards – you may find it interesting? It is the blogging equivalent of #adminchat which is hosted by Executive Secretary Magazine.
Blogging on the blog curation tool LinkedIn Pulse platform may be a good place to start? It is free and you are own editor.  The post will automatically feature on your LinkedIn profile.
You could become a Guest Blogger.  These sites will usually source their own copyright free photos so you don't need to worry about that and just send over the blog content in word format.
Track your blog with Google Analytics (a free tool).
If you create your own blog organise it with tags and categories and you may also want to set up a static page 'about you'.
Build your own private stock photo collection– for example in relation to blogging/writing you can take photos of a typewriter, computer keyboard, pencil, paper, handwriting etc. You can use this approach with almost anything.
Research all of the free tools and see which is the best for you and if none work invest in your own personal domain.
Don't put it off – if I can do it anyone can! Most blogs are 200-500 words so in theory shouldn't take that long to do.  There are many ways to blog – albeit a Microblog, Edublog, Photoblog and a Video blog (vlog).  Twitter is considered to be a Microblog so you may already be a blogger in the making.
Use social media to see what are hot topics.
Focus on fresh and punchy titles and subheadings – 8/10 people will scan your blog and only 2 will read on.  Your heading needs to be compelling in order to entice the reader to continue.
Enjoy and have fun but always be mindful that what you put in a blog will exist forever so exercise caution and common sense.
A HUGE thank you to everyone who attended and supported me with this hot desk session.  It was my first time public speaking like this and going outside our comfort zone as you know is often daunting.  Happy Blogging!
This post was first published at Office Show.
If you want to learn how to guest blog check out my latest post on Small Business Saturday UK.